Scenarios are designed to reflect a typical consulting assignment. The Applicant will initially be presented with background information about a business which they will need to evaluate and react to, as they would when working within a company.
As the exam applicant, you will be expected to communicate clearly and simply in a non-technical manner with the assessor when they are taking the role of the commissioning client.
You will also be expected to answer questions from the assessor regarding your understanding of the Standard, which will involve more technical questions and answers.
Example Scenario:
StayUp is a small building contractor; they are subcontractors to a larger building company that has just won a contract to build an annexe to a secondary school. The Local Education Authority (LEA) insist that the prime contractor certifies to Cyber Essentials at the self-assessed level as a minimum. The prime contractor has included this requirement in all their subcontractor agreements.
About the business
StayUp employs 30 people as follows:
Nia is the Managing Director and owner of the business. Her responsibilities include:
Quoting for work.
Project managing the delivery of work.
Managing the office.
Richard does general administration finance and manages IT.
Kathy is part-time and manages HR and Payroll.
Greg is an apprentice and works with Richard doing general admin and IT support.
The other team members are what Nia refers to as the trades.
The IT
Hardware
The IT is not complicated and is made up of the following:
1 X Dell Latitude 5450 running Windows 8.1 Pro 64bit
2 X Dell Inspiron 15 3000 running Windows 11 Home
1 X HP Elite 8300 SFF running Windows 10 Pro
1 X Synology RT2600 ac Router
1 X DrayTek 130 Ethernet Modem
1 X HP OfficeJet Pro 7740

Network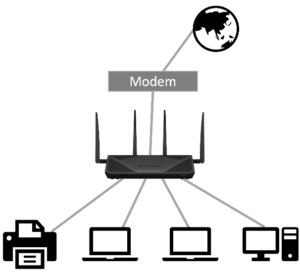 Working arrangements
Richard and Greg are fully office based with no remote working.
Nia occasionally works from home, where she connects her business laptop to the internet through her home ISP supplied router. When on customer sites, if she connects to the internet, it will usually be via the customer's network.
Kathy works two days from home and one day in the office. When at home, Kathy connects her business laptop to the internet using her home ISP supplied router.
The trades work mainly on customer sites and have no access to any business IT.
Applications and Business Services
StayUp uses the following applications and business services:
Google Workspace for:
File storage
Email
Word processing
Spreadsheets
QuickBooks accounting
Zoho People HR and Payroll
The Advisor can expect to be asked questions such as:
What would be in the scope of Cyber Essentials?
What issues do you see with the IT environment regarding Cyber Essentials?
Demonstrate how you would check the configuration of the primary boundary firewall.
The course of the assessment conversation will be based on the answers to the initial questions as the assessor probes the depth and breadth of the Applicant's understanding.